New Report: Are you prepared for a price on carbon? How the board can manage transition costs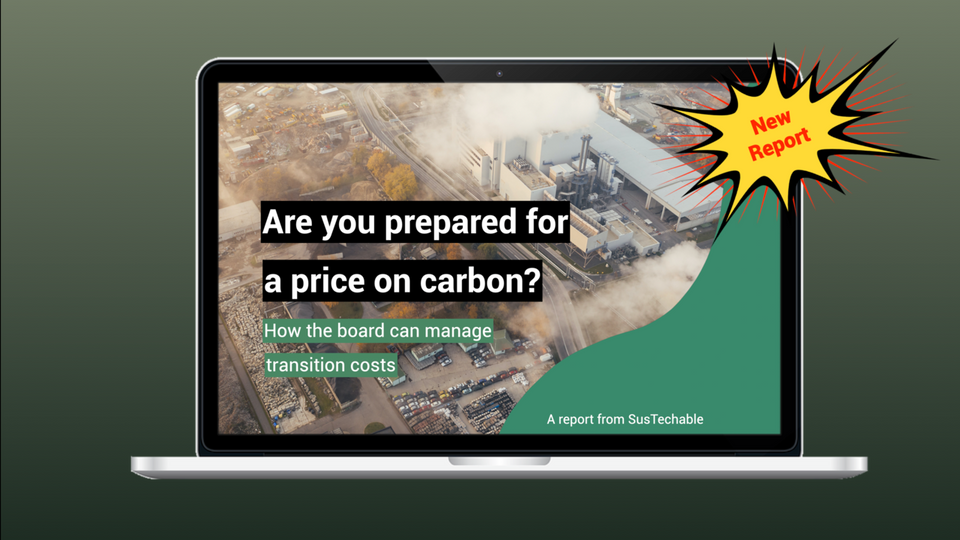 This report aims to guide you, the board and management in how to start the work of understanding the impact of a carbon price on your business. In 15 minutes when you've read through this report you'll be better prepared and understand WHY and HOW to set an internal carbon price ($/tonne) and calculate your carbon costs.
It has escaped no one that we are facing the huge challenge of addressing global warming, climate crisis and the biosphere's collapse, as well as the transition to phase out fossil fuels to build a sustainable next chapter of humanity.
The recap - we have in different ways used nature's resources like water, forests, air, oceans, oil, gas, minerals almost for free and now the costs and implications are insufferable.
The market-based economy is a foundation to build huge wealth, value and extraordinary innovations, however the real costs of emitting GreenHouse Gases (GHG), polluting water and causing deforestation etc. have not been priced in.
There are NO free lunches. Current and future generations will need to pick up the bill for all the free riding polluters of the past. Creating a global price on emissions seems to be a somewhat pragmatic, effective and manageable way to address our collective challenges. A price on carbon is obviously not a solution but one tool of many as we evolve in this new chapter of transition.
/ Team SusTechable
Download the free report here: SusTechable.com/reports